Compact and Forum's Board Members
The Compact and Forum's structure is designed to be flexible and lean. It is run by a Board, with representatives of national, regional and international law societies, and operates through Working Groups.
Christopher Stephens
Representing: The World Bank Group
Position: Senior Vice President and General Counsel
As Senior Vice President and General Counsel of the World Bank Group, Christopher Stephens oversees the World Bank's Legal Vice Presidency (LEG) consisting of approximately 200 professionals located around the world. He is responsible for overall coordination and support on legal aspects of the Operational Activities of the World Bank, including lending, advisory services, country engagement, operational policies, development finance, trust funds and partnerships, and sanctions and anti-corruption. He is also responsible for legal aspects of the corporate finance functions related to financial risk, financial reporting, treasury functions, capital markets issuances, and asset management, and provides legal advice on human resources, procurement, information technology, ethics and external affairs.
Read the full note here.
---
Dr. Sandie Okoro
Representing: Standard Chartered Bank
Position: Group General Counsel
Dr Sandie Okoro is Group General Counsel at Standard Chartered Bank, where she oversees the Legal, Group Corporate Secretariat and Shared Investigative Services functions, and is a member of the Bank's Management Team. Previously, Sandie served as General Counsel and Senior Vice President, and Vice President for Compliance, at the World Bank Group.
Sandie is an Honorary Bencher of Middle Temple in the United Kingdom (2018), was named one of the Top 20 Global General Counsel (2019) by the Financial Times, and was recognised as Britain's 10th most influential person of African and African Caribbean heritage by The Powerlist (2023).
Sandie was appointed inaugural Chair of the UK-based charity Women of the World Foundation in June 2021, she received an honorary lifetime Emeritus membership of the Law Societies' Compact and Forum for Sustainable Development Goal 16 in June 2022 and is a Governor of the Royal Shakespeare Company.
---
Penelope Warne
Representing: The Law Society of England & Wales.
Position: Board Member, Emeritus member
Ms. Warne is a leading Energy law specialist. She has led the establishment of many international offices and is a member of the Foundation Board at IMD, the highly acclaimed international business school based in Lausanne, Switzerland.
She is ranked as a Leading Energy Expert in both Chambers and Legal 500. She has received many awards for her energy work and has been recognised in The Lawyer's Hot 100 twice. She was also awarded "The Senior Management Partner of the Year" at the British Legal Awards 2017. Penelope was one of only 20 ranked in the law category of The Sunday Times/Debretts "Britain's 500 Most Influential". The UK Legal 500 Awards awarded her for Outstanding Achievement where her role was recognised for leading the firm and her commitment to diversity in the City.
Ms. Warne works globally with governments, energy industry specialists and academics and is a member of the Oxford University Vice Chancellor's Circle. She is a great supporter of Diversity & Inclusion.
---
Lourdes Victoria Venes, Esq.
Representing: Inter-American Bar Association (IABA)
Position: Secretary General
LMs. Venes is an attorney who has been admitted to the D.C. Bar, New York State Bar, and the Lima Bar. She earned a Master of Law in International Legal Studies from Georgetown University Law Center and a Bachelor's Degree in Law and Political Sciences from the University of Lima.
She has served on leadership roles and is the Secretary General of the Inter-American Bar Association, has been leading the Inter-American Bar Association D.C. Chapter, and has represented the IABA at UNCITRAL Working Groups II and III meetings. Lourdes is a member of the George Mason University Foundation Board of Trustees and serves on its Nominating and Governance Committee. She has been Advisor to the Peruvian Minister of Justice leading the design of an anticorruption project, supporting the development of the business and human rights plan, and working on judicial reform issues, among others. She also has been doing volunteer work on human trafficking awareness and prevention, with the Northern Virginia Human Trafficking Task Force, and for Zonta International, an NGO that works on women issues and on women empowerment and leadership.
Previously, she served as Chief of Staff to the Peruvian Minister of Labor and Promotion of Employment. She was the Chief of the Technical Secretariat of the High-Level Working Group for the Peruvian National Justice System Modernization Project and led the development of a strategic plan for judicial reform. Lourdes worked as the Coordinator of the Americas Fund at the U.S. Agency for International Development, Peru, being instrumental in the successful design and implementation of the Americas Fund.
---
Laurent Martinet
Representing: French National Bar Council
Position: Vice President
Laurent is a lawyer at the Paris Bar, where he was sworn in in 1991. Practicing in commercial and business law, he has developed an expertise in litigation and works both in France and internationally. He previously held institutional responsibilities as Vice-President of the Paris Bar Association from 2014 to 2015, then as Deputy Chairman of the EFB (Professional Training School of the Bars of the Paris Court of Appeal).
---
Jacqueline Scott
Representing: Union Internationale des Avocats/ International Association of Lawyers (UIA)
Position: Director General, Institute for the Rule of Law (UIA-IROL)
Ms. Scott currently serves as the Director of the UIA Institute for the Rule of Law (UIA-IROL) whose mission is to promote the Rule of Law and address essential human rights issues. The UIA-IROL coordinates several UIA bodies to ensure greater efficiency and coordination among their activities.
She is a co-founder of Fortney & Scott, LLC, where her diverse practice focuses on business, international and workplace matters, including adjudicating a wide array of workplace claims. She advises clients, both U.S. and foreign, on matters involving international tax and international labor and employment law, including data privacy, independent contractor classification and expatriate agreements. Ms. Scott also has significant experience and expertise in adjudicating both U.S. and international employment and commercial disputes. She served for seven years as the United States' Member and was elected as the First Vice-President of the United Nations Administrative Tribunal (the "UNAT"), the seven-member, independent appellate forum of last resort that adjudicated claims made by United Nations employees worldwide.
She is also the Secretary of the Labor and Employment Commission of the International Association of Lawyers; a Member of the American Employment Law Conference and a Former Member and First Vice-President of the United Nations Administrative Tribunal (2003-2009).
---
Michael Maya
Representing: The International Bar Association (IBA)
Position: Director, IBA North America Office
As the Director of the International Bar Association's (IBA) North America office in Washington, D.C., Mr. Maya liaises primarily with members of the legal profession, human rights organizations, climate justice activists, U.S. governmental bodies and international organizations (i.e., United Nations, World Bank). Public service initiatives on which he devotes significant time include projects on climate change justice, business and human rights, civic education on the rule of law, and North Korean human rights.
Prior to joining the IBA, he spent two decades working with judges, lawyers, human rights defenders, lawyers, and civil society organizations to promote the rule of law with the American Bar Association Rule of Law Initiative (ABA ROLI), and a predecessor entity, the ABA Central European and Eurasian Law Initiative (CEELI). During his tenure at CEELI, he lived and worked in Tashkent, Uzbekistan, and Moscow, Russia, before returning to the U.S. to direct CEELI's programs in the former Soviet Union, later serving as CEELI's Deputy Director. In 2007, he helped spearhead the consolidation of the ABA's international development programs in Asia, Europe and Eurasia, Sub-Saharan Africa, Latin America, and the Middle East, which together formed ABA ROLI. As ABA ROLI's Deputy Director, Michael helped oversee programs in 60 countries. During a four-year period he was dual-hatted as ABA ROLI's Deputy Director and its Africa Director, launching programs throughout Africa, including in the Democratic Republic of Congo (DR Congo). There, ABA ROLI built the capacity of its Congolese partners to prosecute war crimes, crimes against humanity, and mass rapes, including through "mobile courts" in the most remote regions of eastern DR Congo.
Before shifting his focus to the international arena, Michael practiced law in New York City. He earned a B.S. from Indiana University and a J.D. from Cornell University.
---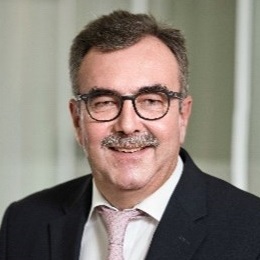 Dr. Ulrich Wessels
Representing: The German Federal Bar (BRAK)
Position: President
Dr. Ulrich Wessels studied law in Freiburg and Münster and spent part of his practical training in London, where he obtained his Ph.D. He was admitted to the legal profession in 1988. Today, he is a partner of Dr. Koenig & Partner GbR in Münster (Westphalia). Dr. Wessels is a Bar-approved specialist lawyer for family law and administrative law.

Since 1994, Dr. Wessels has been a member of the Council of the Hamm Bar, served as its treasurer for several years and held the office of President of the Bar from 2012 to November 2019. He has been a member of the Board and treasurer of the Deutsches Anwaltsinstitut e.V. since 2003. In 2015 he became a Vice President of The German Federal Bar (BRAK) and President in September 2018.
---
Mr. Shyam Divan
Representing: LAWASIA
Position: President-Elect
Shyam Divan is a senior advocate and practices before the Supreme Court of India. His areas of practice cover constitutional law and most branches of civil litigation including banking, securities law, arbitration, administrative law and environmental law.
He received the 2021 International Privacy Champion Award from the Electronic Privacy Information Center for his role in a set of privacy protection cases.
He is the co-author of Environmental Law and Policy in India (3rd Edition, forthcoming 2022, Oxford).