---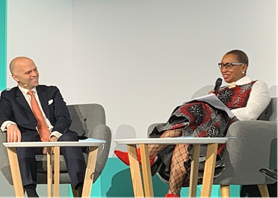 Goodbye note from Sandie Okoro
Dear Compact & Forum members,
As many of you know, I will be leaving my position as General Counsel and Senior Vice President of the World Bank at the end of March. This means I will no longer serve as the Chairperson for the Compact & Forum.
I would like to take this opportunity to share some parting thoughts with you. The Compact & Forum began from a simple conversation about what lawyers can and should do to advance justice and the Rule of law around the world. Our intention was to create a space where lawyers could convene and support one another in their efforts to promote SDG 16. Nearly 2 years since its inception, the Compact has now grown into a fledgling organisation with 15 members and 4 working groups. We have hosted events, launched our website and are now launching our newsletter. Seeing this growth and evolution has brought me great joy.
As I depart, I would like to encourage all of you to remain focused on our mission and vision. I strongly believe that Rule of law, peace and justice are cornerstones of sustainable development. If we do not have concrete and lasting solutions to these issues and do not guarantee equality for all, any progress we make, whether it is economical, technological or otherwise, will always be threatened.
I have always been proud to be part of the legal profession and I truly believe that our skills and knowledge can be used for good. The Rule of law is currently under significant threats. The new international order shows a trend of challenging international law, which is part of the worrying brutalization of the world we live in. The law is an essential priority for discussion and action at the global level and can be a powerful "weapon" to protect the Rule of Law and the fundamental human rights. Lawyers are on the front line of the judicial system and crucial to realizing accessible, efficient, and fair justice institutions. Through their actions, lawyers can advance or inhibit justice. As you unite lawyers around the world, I encourage you to be innovative, collaborative, and practical in your solutions. There is much work to be done and we can do it better and faster if we do it together.
While I am sad to leave, I am optimistic and excited about the work that you will do and what you will achieve. Achieving SDG 16 will take all our efforts and I promise to do my part even in the next stage of my career.
It has been an honor and a pleasure to work with you all and serve as your chair.
Sandie Okoro
---
New email address for our secretariat
We're pleased to announce that the Compact & Forum now has a dedicated email address where you can direct your questions and communication. Please reach out to us at info@compactandforum.org.
---
Working groups get to work
We are happy to announce that, during its meeting in January, the Board approved three new working groups, bringing our total to four.
In addition to our first working group on Access to Justice and Law, which is led by the Paris Bar Association, we now have the following working groups:
i. Good Governance and Capacity Building by Bars and Law Societies
This working group is co-chaired by the Law Society of England and Wales and the Inter-American Bar Association. It is focused on helping law societies improve and strengthen their internal governance processes to make them more effective and enhance their transparency and accountability. The Working Group will provide support to Law Societies and Bars through a capacity building programme that includes organizational learning and development of good governance standards, tools and model documents that can benefit them and their members in the long term.
ii. International Women in Law
This working group is chaired by the Law Society of England and Wales. It based on the International Women in Law Program currently run by the Law Society. It is focused on achieving equality for female lawyers and encouraging law societies to actively support equality in the legal profession and promote greater participation and leadership of women in the profession. It also aims to break down women's invisibility by supporting efforts to record and highlight women's history and contribution to the legal profession.
iii. Rights of Asylum
This working group is co-chaired by the French National Bar Council and the Inter-American Bar Association. It aims to promote access to justice for asylum seekers and migrants, who are often denied justice and fair process. It will assess the effectiveness of the right to asylum as provided for in national and regional legal frameworks and identify best practices for asylum lawyers with the aim of building capacity in this area and facilitate the exchange of information.
Please find further details of each working group here.
---
Help the Compact & Forum grow our membership
The Compact & Forum now has 17 members (see the full list here) and we are eager to grow. We greatly rely on our members and their networks to expand our membership. If you have contacts in other law societies or bar associations and would be happy to introduce the Compact and Forum to them, please contact the Secretariat for an information packet that can be shared. The Secretariat is also available to meet with potential members to explain our activities and goals.
---
Access to Justice working group kicked off: Want to help write a "Lawyers' Cookbook"?
The Access to Justice Working Group held its kick-off meeting on April 8, 2022, at 9 am (ET) / 3 pm (CET). It was a success! The session's attendees included multiple lawyers from recognized Law Societies around the world.
The speakers were:
Alessandra Iorio – Chief Counsel for Legal Operations, the World Bank
Julie Couturier – President of the Paris Bar
Marie Mercat Bruns – Affiliated Professor, Sciences Po Law School, Head of Access to Justice Program and Associate Professor (CNAM/LISE CNRS)
Katharine Valencia – Senior Legal Advisor, Due Process of Law Foundation (DPLF)
Andrew Solomon – Senior Rule of Law Advisor, United States Agency for International Development
Christian Brugerolle – Head of the Department of International Relations, Paris Bar Association
Renee Dopplick – Rule of Law Officer, International Law Section, American Bar Association
Lourdes Venes – Secretary General, Inter-American Bar Association
Thierry Aballea (Moderator)– Member of the Paris Bar Council
Thierry Aballea opened the session by presenting the renowned panellists followed by the introductory remarks by Alessandra Iorio and Julie Couturier. An emphasis was put on the role that lawyers play in furthering justice and on the Compact & Forum's support of the Cookbook which aligns with our robust justice and Rule of law agenda.
Marie Mercat Bruns, Katharine Valencia, and Andrew Solomon discussed the role of law societies in advancing the Rule of law and access to justice as well as the potential impact that the Cookbook could have. Christian Brugerolle, Renee Dopplick, and Lourdes Venes then provided information on the goals of the working group as well as the timetable and methodology. Notably, the Cookbook will provide recommendations and best practices based on case studies aimed at strengthening access to justice and promoting socio-economic development. The session concluded with a round of questions from the audience and valuable additional comments from the speakers.
Do not hesitate to contact the Compact & Forum if you have inquiries about the Lawyer's Cookbook on Access to Law and Justice and the session. We welcome your contributions.
---
Sign up for our mailing list
The Compact and Forum is looking to grow our networks and reach wider audiences. Sign up to receive this newsletter and other communications here or via our website: www.compactandforum.org.
---
Compact & Forum website goes live!
The Compact and Forum now has a website – you can find it at www.compactandforum.org (you are currently on the website). We would love to get your feedback on it – please let us know if you have any suggestions.
---
Transitions at the Compact & Forum
Lizzette Robleto de Howarth takes up new role with Advocates for International Development A4ID
The Steering Committee was sad to bid farewell to Lizzette Robleto de Howarth, International Programmes Manager at the Law Society of England & Wales who has been a vital contributor to the establishment of the Compact & Forum. However, we hope that we will be able to work with her again soon in her new capacity as Chief Programmes Officer at A4ID. The Steering Committee would like to thank Lizzette for her valuable expertise, energy and commitment and wish her well in her new role.
Marina Brilman takes over the International Women in Law Working Group.
The Steering Committee welcomed Marina Brilman, International Policy Adviser on Human Rights at the Law Society of England & Wales, as the leader of the International Women in Law Working Group. We look forward to working together as the Working Group takes off and accomplishes its purpose of furthering equality in the legal profession for women.
Imani Jaoko takes on a new role at the World Bank
The Steering Committee was sad to bid farewell to Imani Jaoko who has been a member of the Compact & Forum Secretariat since its inception. She takes on a new role in the World Bank's Governance Team. The Steering Committee would like to thank Imani for her support and contributions to the success of the Compact and wish her well in her new role.
Daniela Dyer Melhado joins the Compact & Forum's Secretariat
The Steering Committee extended a welcome to Daniela Dyer Melhado who joined Laurence Coste in the Secretariat on April 1st, 2022. Daniela will coordinate the Access to Justice and Law and the International Women in Law working groups. We are happy to have her onboard.
---
Upcoming events
World Justice Forum June 2022
The Steering Committee is pleased to announce that we will be participating in the World Justice Forum 2022 organised by the World Justice Project. Our application to host an event was selected from over 70 applications.
We will host a roundtable session on Thursday, June 2nd at 10.30 am to 12.00 pm (CET). The session will focus on gender justice as an integral part of achieving access to justice. It will be a steppingstone to launching our International Women in Law working group. The Forum will offer language interpretation in English, French, and Spanish.
Our selected speakers include:
Paul Prettitore – Senior Specialist at the World Bank (Moderator)
Stephanie Boyce – President of the Law Society of England and Wales
Julie Couturier – President of the Paris Bar Association
Francisca Pretorius – Adviser and Head of the Commonwealth Office of Civil and Criminal Justice Reform
Dr. J. Jarpa Dawuni – Executive Director of Institute for African Women in Law
Ian McDougall – Executive Vice President & General Counsel of LexisNexis
If you would like further information about this event, please click here to visit their website and refer to the flyer and pamphlet below.
Do not forget to register at: https://bit.ly/3BmLQQ3
---
---
Members' Newsroom
58th IABA Annual Conference
Save the date for the Inter-American Bar Association's annual conference on August 2nd- 5th, 2022. More information available soon at www.iaba.org.
Our members often have exciting and interesting events which the Compact is happy to amplify and publicize.
If your organisation has an upcoming event or other important news that you wish to share with our members, please write to the Secretariat with the details and it will be included in our newsletter.
---